Dining at Cedar Creek Country Club is always special. Not only does the club serve up delicious food and drinks six days a week, but a friendly, courteous staff works hard to make your dining experience memorable.
Tuesday
Bar Service: 11AM-8PM Dining: 12PM-8PM
Wednesday
Bar Service: 11AM-8PM Dining:11AM-8PM
Thursday
Bar Service: 11AM-8PM Dining:11AM-8PM
Friday
Bar Service: 11AM-10PM Dining: 11AM-9PM
Saturday
Bar Service: 11AM-9PM Dining: 11AM-8PM
Sunday
Bar Service: 11AM-6PM Dining:11AM-5PM

To Go Orders Welcomed! 903.498.6761

May Specials!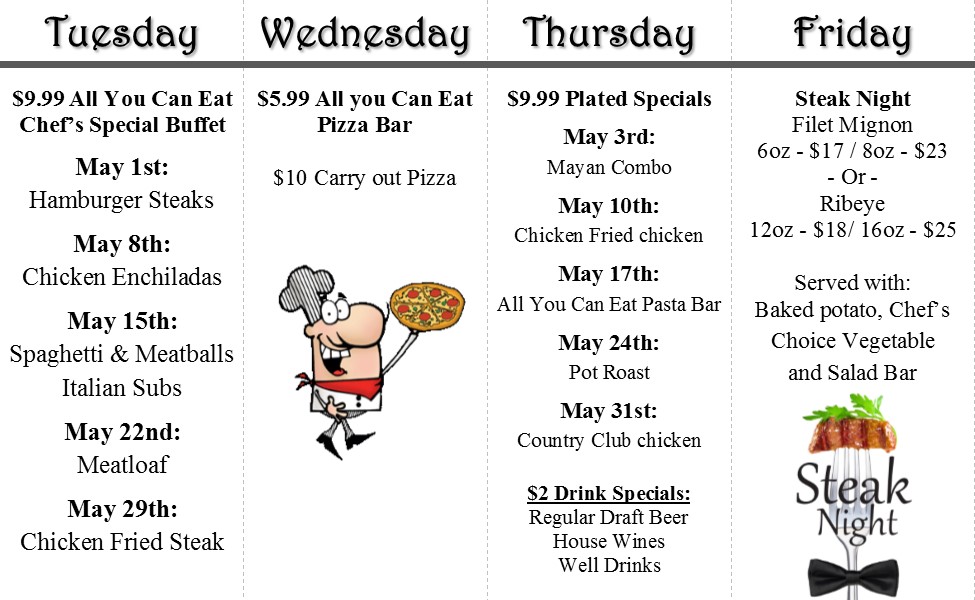 Birthday Night at The Club!
Bring your family and friends out to celebrate! Members with May birthdays will receive a complimentary plated special.
Hello Ladies and Gentlemen,
It is my pleasure to say that I am now the new manager of the restaurant and lounge for Cedar Creek Country Club. It is my honor to work for such a wonderful and inviting establishment. Allow me to take a moment to give you some information about my background so you know who I am.
I started with Cracker Barrel Old country store to begin my career in restaurant and retail management. I worked for several stores in managment and operations all the while creating an inviting and welcoming atmosphere for all guests; past, present and future. After Cracker Barrel I moved to Olive Garden and worked in guest services and training new employees. I also focused on controlling operating and bar costs, while improving the guest experience. No matter which corporate company I worked for, my focus has always been the guest experience.
My focus here at Cedar Creek Country Club is the same; 100% member satisfaction. My goal is to provide a dining experience that is warm, welcoming, professional and detailed to the needs and likes of our members. You will see seasonal menu changes, while keeping the core menu the same. There are just some things that are must haves! I open heartedly invite feedback from all members as to what changes they would like to see. I am here because of, and for the members.
Again, I am thankful for this opportunity to serve you and your club in the best way I know how. I hope I can serve you and your needs in a way that grows membership and entices members to frequent the club on a more regular basis.
Sincerely,
Jason Bryant