Dining at Cedar Creek Country Club is always special. Not only does the club serve up delicious food and drinks six days a week, but a friendly, courteous staff works hard to make your dining experience memorable.
Tuesday
Bar Service: 11AM-8PM Dining: 12PM-8PM
Wednesday
Bar Service: 11AM-8PM Dining:11AM-8PM
Thursday
Bar Service: 11AM-8PM Dining:11AM-8PM
Friday
Bar Service: 11AM-10PM Dining: 11AM-9PM
Saturday
Bar Service: 11AM-9PM Dining: 11AM-8PM
Sunday
Bar Service: 11AM-6PM Dining:11AM-5PM

To Go Orders Welcomed! 903.498.6761

March Specials!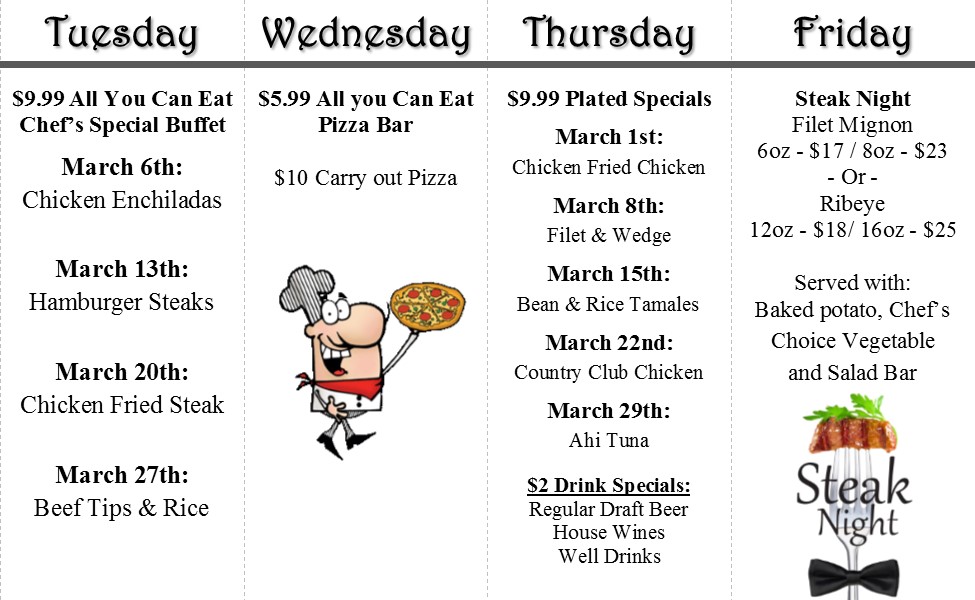 Birthday Night at The Club!
Bring your family and friends out to celebrate! Members with March birthdays will receive a complimentary plated special.
What a great month February was for the restaurant and lounge. We had a huge turnout for the Designer Purse Raffle Event on February 3rd. The attendees enjoyed Hors D'oeuvres and Desserts prepared by our talented kitchen staff.
Our Valentine's Day dinners, on the 10
th
and 14
th
, were also a huge success. Once again, our kitchen staff did an excellent job of preparing steaks, lobster tail and Ahi Tuna for our Members.
On February 23rd, we had yet another huge turnout for Steak Nite, including a birthday celebration for Mr. Bill Coleman who was celebrating his 91
st
birthday. Happy Birthday Mr. Coleman!
Please note that on Saturday, March 3
rd
, the Club will close at 3:00 pm for a wedding. Takeout service from the kitchen will end at 4:00 pm.
The month of March is promising to be "LUCKY" as well. On Saturday, March 10
th
, we will have the Member-Guest One Day Tournament.
Don't forget to check for our Weekly Daily Specials which are Tuesday's Chef's Special Buffet, Wednesday's Pizza and Salad Bar Buffet, Thursday's Plated Dinner Special and, of course, Friday is always our popular Steak Nite.
Mark your calendars for Thursday, March 29
th
, for our Murder Mystery event during dinner service. Thirsty Thursday drink specials will be, of course, in effect as always, including "Scary Bloody Mary's" and other related drink specials.
Our annual Easter tradition, "Breakfast with the Easter Bunny," will be on Saturday, March 31
st
, with Easter Brunch the following morning on April 1
st
.
Come and see us soon in the Restaurant and Lounge!